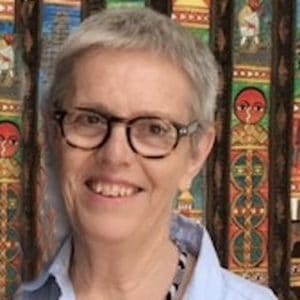 Specializes in reunification of unaccompanied children, training, gender based violence, creation of safe spaces.
Angela Raven Roberts' career spans 30 years of work with NGOs, United Nations and academia in the Humanitarian sector. She has also served as  the first Director of Academic Programmes for the Feinstein International Centre at Tufts University At Tufts, she oversaw the design of one of the first Master's of Arts in Humanitarian Assistance (MAHA) degree in the USA, developed specialist courses on gender, culture and humanitarian assistance and spearheaded several successful humanitarian initiatives with MIT, Harvard and other universities. She rejoined UNICEF in Geneva in 2004 as Regional Chief of Emergencies for Central and Eastern Europe and Commonwealth of Independent States. Between 2010 and 2012 she was Executive Director for the Humanitarian Accountability Partnership in Geneva.
Dr Raven-Roberts holds a PhD in Anthropology from the University of Minnesota, a Master's degree in Social Anthropology from Oxford University, and a Bachelor's degree in African History and Social Anthropology from London University School of Oriental and African Studies.
She is currently an independent researcher specializing in gender, youth, and livelihoods in emergencies; post crisis recovery issues, pastoral livelihoods in change, and the role of national civil services in disaster preparedness.
Note: Biography from University of Oxford's website